Announced earlier this month, US arms earmarked for the Kurdish YPG have begun arriving in Syria today, according to Pentagon officials, who are already bracing for a new round of angry condemnations from the Turkish government related to the shipments.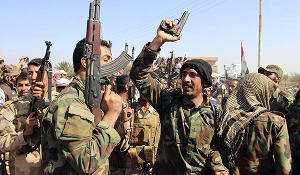 The Pentagon continues to refuse to say exactly what weapons were sent for the dispatch, which has fueled considerable speculation since the YPG has been "recycling" old photos of US weapons it claimed were representative of what was to come, including M1A1 Abrams battle tanks.
In reality, those familiar say the shipments won't be anything so grand, with a few armored vehicles and a lot of rifles and ammunition. Even that, Pentagon officials say, will be parceled out over time, with the Kurds given specific equipment just to meet specific military objectives.
While Turkey's going to be mad either way, it's not clear how well the Kurds will react to the shipments being parceled out so slowly and deliberately, since the US is effectively using them for the bulk of their military ground force inside Syria, and is expecting them to make broad accomplishments in fighting against ISIS.