The situation in the southern Philippines is turning increasingly dire, with over 100 ISIS fighters storming the city of Marawi, killing at least 13 soldiers and taking a large number of hostages, including staff and worshipers from the local cathedral.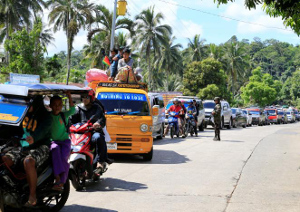 21 people have been killed overall, and ISIS flags are flying on buildings throughout the city. Images from the outskirts of the area show civilians fleeing en masse, trying to get away from a city that is suddenly a war zone, amid declarations of martial law.
Philippines President Rodrigo Duterte insisted ISIS is now "everywhere" in southern Mindanao, vowing "If I think you should die, you will die," and that he would also kill anyone who shows "open defiance." The region under martial law has some 22 million residents,
Rapid deployment of troops into the area is expected to quickly recapture it, though likely with a lot more casualties. ISIS' presence across the region is substantial, however, and this sudden attack on Marawi is probably just the first of many.