President Trump's discussion with South Korea's newly dispatched presidential envoy was followed by upbeat reporting in the South Korean media, saying that Trump had assured the ambassador that he is willing to accept diplomatic engagement with North Korea "under the right conditions."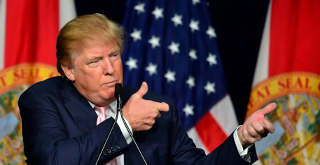 It's still not clear, however, what those conditions are, and the State Department has recently suggested the US would never talk to North Korea unless they gave in to materially all US demands beforehand.  During this new conversation, Trump is also said to have emphasized the possibility of "a major, major conflict" with North Korea.
Trump has been very clear about leaning toward sanctions and/or war in dealing with North Korea. His administration has also repeatedly declared diplomacy a "failure," despite the newly elected South Korean President, Moon Jae-in, making clear he wants to return to a Sunshine Policy of trying to improve relations with the north, with an eye toward peaceful reunification.
While the effort was clear in media reports to present Trump as more open to talks now, it doesn't seem these comments are necessarily any different from those last week, when he bragged about how well he's handled North Korea without talks, and that he would only accept them "under certain circumstances."