After weeks of mounting international concerns about the possibility of the United States attacking North Korea, President Trump appeared extremely non-committal about the possibility of him ordering such an attack, insisting he wasn't going to rule it out.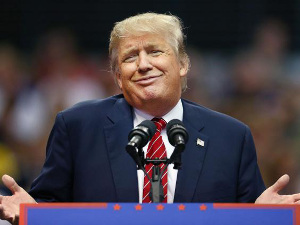 "I don't know, I mean, we'll see," Trump insisted on CBS' Meet the Press. This was a surprisingly mild response after weeks of talking about "taking care of" North Korea and bragging about dispatching a "armada" to the Korean Peninsula with an eye toward such a strike.
In these most recent comments, President Trump was back to suggesting that China might solve the situation for him, bragging about his "very special" relationship with Chinese President Xi Jinping. Trump had previously conceded expectations of China imposing a solution on North Korea were unrealistic, and that the situation was more complicated than he'd initially believed. Since then, administration officials have repeatedly gone back to talking up China ensuring the US gets its way on the Korean Peninsula.
After last week's briefing of the entire US Senate at the White House, senators seem to still think that attacking North Korea is a very real possibility, with the ever-hawkish Sen. John McCain (R – AZ) saying it would be "foolish" to rule out an attack, while he too suggested China could use its leverage to resolve the dispute.
The US continues to deploy more forces into the area around North Korea, and with wargames with South Korea ongoing, which simulate an attack on the north, many remain concerned that the real attack could be coming at any time.
Last 5 posts by Jason Ditz