While the Clinton campaign continues to claim "everyone knows" Russia's government is behind hacking attacks on her campaign, and that it is doing so on Donald Trump's behalf, many media outlets have reported this evidence-free allegation as unvarnished fact.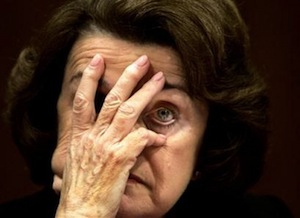 The appeal to general consensus is working, as while both Trump and the Russian government have denied that anything of the sort is going on, the charges keep coming. Indeed, denying something there's not really any evidence for is so controversial that many Republicans have called on Trump to stop denying it, and his running mate, Gov. Mike Pence, today said he also believes Russia is responsible.
Sen. Dianne Feinstein (D – CA), the vice chair of the Senate Intelligence Committee, is now also making such statements, and claims her conclusion is "based on media reports I have seen."
Where the allegations meet the law is unclear, but the Democratic Coalition Against Trump (DCAT) is demanding that the FBI investigate the Trump campaign over the hacking echoing comments from some high-ranking House Dems on Friday, who similarly demanded the FBI do something about the "ongoing criminal activity."
In practice, what evidence has been made public provides little ties between the hacker Guccifer 2.0 and any sites inside Russia, which is itself a far distance from proving a link with the Russian government, which is an even farther distance from proving Trump to be in on a conspiracy.
That means legal proceedings almost certainly won't be happening, though with Clinton making the allegations a substantial part of her campaign, keeping the story in the headlines is likely more important than substantiating it.
Last 5 posts by Jason Ditz