Speaking today during an official visit to Laos, President Obama vowed that the US would retain a military presence in the South China Sea on an essentially permanent basis, saying it was necessary to show regional allies of America's commitment.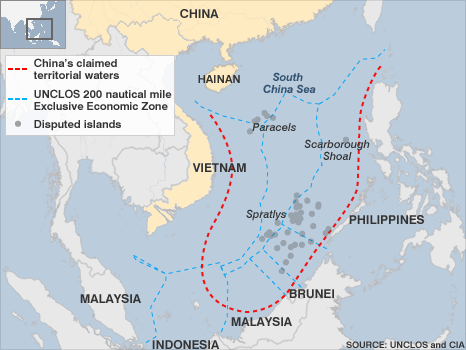 "Our commitment to your defense is a solemn obligation that will never waver," Obama insisted, adding that warplanes would continue to fly over the South China Sea, and warships would continue to sail through the area. Pentagon officials have made much of such overflights as "confronting China."
Maritime claims within the South China Sea are hotly disputed, with the US making a policy of supporting everyone else in claims conflicting with China's, and urging them to negotiated when the disputes don't involve China. The US has suggested it is obliged by treaty to militarily support the Philippines in particular in claims conflicting with China.
Though nothing anyone is done has suggested any threat to the substantial maritime trade that flows through the region annually, US officials have cited that trade as a main reason for their intervention. In reality, there are speculations of massive energy reserves below the sea, making which country actually owns that territory significant to oil drilling deals.