The Syrian Civil Defense group is claiming that 17 civilians were killed and at least 30 others were wounded when airstrikes targeted the city of Idlib. The group said Syrian military aircraft conducted the airstrikes.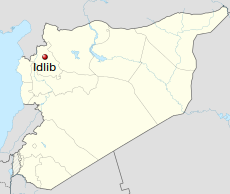 Idlib is held by a coalition of Islamist rebel groups led by the Nusra Front. They also control virtually the entire province of Idlib, including the substantial border the province has with neighboring Turkey, through which considerable rebel traffic flows.
Idlib has been increasingly targeted in recent weeks, as Nusra attempts to send reinforcements into neighboring Aleppo to support an ongoing offensive there. This particular attack appears to have hit a marketplace, however, with no troops believed in the vicinity.
This has been an ongoing problem across Syria throughout the war, but in particular between the military and Nusra, as both sides have repeatedly hit obvious civilian targets throughout the past few months for no apparent reason, with airstrikes and artillery fire rarely hitting actual fighters.