Demands late last week by the US-backed Syrian Defense Forces (SDF) for ISIS to unconditionally surrender the city on Manbij within 48 hours, unsurprisingly, came and went without any official acknowledgement from ISIS, and the fighting in the city continues to escalate.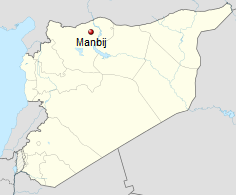 Over the weekend, the fighting turned even heavier, with US spokesman Col. Chris Garver saying that the SDF are facing "a fight like we haven't seen before," with ISIS putting up a much more intense defense than they did in Iraqi cities like Fallujah.
That reflects the broadly different situations. In Fallujah, ISIS was at the edge of their supply route, while the Iraqi military was operating very close to their capital in Baghdad. In this case, the SDF are operating closer to their practical limits, while Manbij is right in the heart of ISIS territory in Syria.
That was, of course, why the US pushed for this offensive, as the loss of Manbij would effectively separate ISIS territory in Aleppo from their capital of Raqqa, complicating travel between Raqqa and Turkey. Whether the SDF can pull that off is another matter.
After two months of fighting, they've taken parts of Manbij, but with US airstrikes causing a growing number of civilian casualties in the area, morale is worsening, and a growing number of the locals aren't at all keen to see the city "liberated" into the hands of US allies.
Last 5 posts by Jason Ditz