Israel's far-right government is almost always at odds with the Obama Administration over something or other, and in recent weeks, it has tended to be Obama's attempts to get Israel to accept some $35-$37 billion in military aid over the next decade, a record amount for any US military aid package.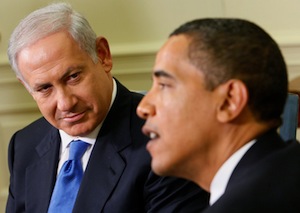 Today the US insists the deal is closer than ever, but the anger is simmering over exactly where the missile defense funding will be, and how big it will be.
The White House wants to put the annual missile defense funding for Israel in the decade-long aid package straightaway, arguing it'd be easier than having Israel negotiate a new, larger package every single year with the US Congress.
Not having a chance to annually squeeze even more money out of Congress isn't a "win" by Israeli standards, and major Israel Lobby group AIPAC, one of the groups responsible for coaxing ever more money out of Congress, blasted the White House, saying there is strong bipartisan support in Congress every year for such funding.
The Israeli Prime Minister's Office downplayed the latest row, expressing confidence that US aid to Israel would keep growing no matter what. The White House tried to tamp down concerns too, promising "accommodations" for Israel in the record aid package to come.
Last 5 posts by Jason Ditz