Two weeks ago, Israeli Prime Minister Benjamin Netanyahu surprised many people by declaring his far-right government willing to hold peace talks on the basis of the Arab Peace Initiative, saying he believed it had "positive elements" and was a basis for "constructive negotiations."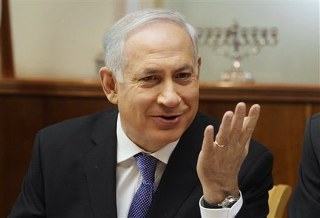 Today, Netanyahu loudly did an about-face, declaring that Israel would "never accept" the initiative as the basis for any talks with the Palestinians, and demanding that Arab nations make massive revisions to reflect addition Israeli demands before anything could be discussed.
Netanyahu now says the "positive elements" of the plan were the ones where all the Arab nations normalize ties with Israel, and that the "negative" part was the part where Israel ends its occupations and allows the Palestinians to establish a state.
The Israeli position doesn't exactly make a good basis for talks, and indeed Netanyahu looks rather silly after talking up the idea two weeks ago and once again pulling the rug out from under the peace process as soon as it looked like anything might happen.
French FM Jean-Marc Ayrault took Netanyahu to task over the matter, saying France intends to continue on its with own peace initiative irrespective of Israeli opposition. Netanyahu has been seeking a UN Security Council veto from the US to block the French plan.
Last 5 posts by Jason Ditz