The Israeli far-right government survived its first week after the installation of Avigdor Lieberman as Defense Minister, but there remains considerable internal conflict, which is only growing after Prime Minister Benjamin Netanyahu confirmed that he is willing to negotiate along the Arab Peace Initiative.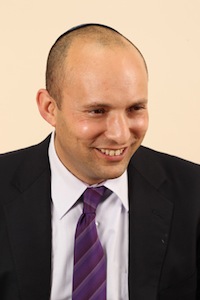 Naftali Bennett responded by accusing Netanyahu of "going left" in a plot to replace his Jewish Home Party with the center-left Zionist Union. Bennett's key political ally, Justice Minister Ayelet Shaked, vowed that so long as they are in the government, there will be no Palestinian statehood under any terms.
The Land of Israel Caucus in the Israeli parliament has also publicly demanded that Netanyahu immediately annex the settlement of Ma'ale Adumim, in the occupied West Bank, on the grounds that Israel never had any intention of giving the land back to the Palestinians anyhow.
The caucus presented a survey which claimed 77% of Israelis believe an annexation can be done without any agreement from the Palestinians, with the caucus saying it proves" Israel knows what is good for itself," and hailed the "most nationalistic government" since the formation of the Israeli state.
Israel's dramatic rightward shift continues, and some of Likud's more moderate figures aren't too happy, with MP Benny Begin lashing out at the "stupid right" faction in the government for ousting Defense Minister Moshe Ya'alon as insufficiently hawkish. Netanyahu may quickly find the decision to go along backfiring, as with the historic moderate-right getting chased out of Likud, Netanyahu is finding himself with coalition partners that all view him as "too moderate" as well.
Last 5 posts by Jason Ditz