US drones attacked a moving vehicle in the southern Yemen village of Amoudiya, near the city of Zinjibar today, killing six people, according to local residents. Officials identified all the slain as "al-Qaeda leaders," with the main leader a heretofore unheard of man named Abu Sameh al-Zinjibari.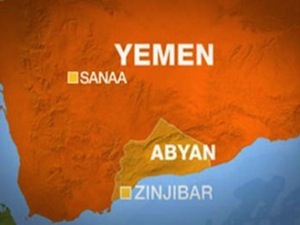 The US has been in talks with members of the Saudi coalition, particularly the United Arab Emirates, on increasing their involvement in attacks on al-Qaeda in the Arabian Peninsula (AQAP). The attack comes just days after UAE-led forces expelled AQAP from Mukallah, an attack Saudi officials claimed (however dubiously) killed over 800.
Zinjibar, the capital of the Abyan Province, has been under the effective control of AQAP and its allies since the Arab Spring, when amid mass protests in the capital and military crackdowns in the north, AQAP was able to take over the area with little resistance.
Though Abyan has been contested off and on since then, their control over the area has never really been in doubt. This is a shift for the US, however, which in recent months had almost exclusively focused their drone attacks on Mukallah and the Hadrawmut Province.