After a rare, bloody three days of fighting between a pro-government militia and the Kurdish YPG in northeastern Syria, the two sides have agreed to a truce, which began on Friday night and has held through the weekend, negotiations continue on the exact terms.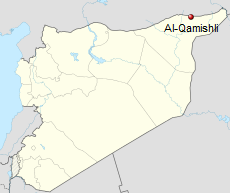 Though the YPG has carved out much of the Hasakeh Province as an autonomous region, they have remained on mostly good terms with the Syrian government, with the two sides cooperating in fighting against ISIS when it has tried to advance into the area.
This all seemed forgotten last week, when a pro-government militia advanced on the city of Qamshili, and was stopped at a Kurdish police checkpoint. Arguing turn to fighting, and YPG forces backed up the police, leading to three days of fighting in the region around Qamshili.
Kurdish officials say they believe that under the final deal, they will retain territory captured from the militia during the three days fighting. The Syrian Observatory for Human Rights concurred, saying the copy of the agreement they saw said both sides would keep whatever territory they currently control, meaning the Kurds gained a bit of land.
The big question, however, remains what caused the fighting in the first place, as Qamshili hadn't been a site for violence generally, and it was never said what the militia's interest in advancing into the city was.
Last 5 posts by Jason Ditz