Yesterday's clashes in the northeastern Syrian city of Qamishli were apparently no one-off deal, and fighting rages today between the Kurdish YPG and members of a pro-Syrian government militia in the area. leaving at least 26 people dead, 21 from the militia and 5 from the YPG and affiliated Kurdish police.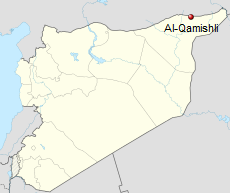 The fighting began when the militia attempted to enter Qamishli yesterday, running into a Kurdish police checkpoint. An argument quickly escalated into gunfire, and Kurdish YPG forces got involved to back up the police.
Not only did the militia apparently lose the fighting so far, but reports have at least 40 militia fighters captured by the YPG, and are now being held in a prison in the area. The Syrian government and the YPG had previously been on relatively good terms.
It's unclear what the interest of the militia was in Qamishli in the first place. The city is on the Turkish border, and in January reportedly had Russian engineers in it, scouting for a possible site for an air base in the region.
Last 5 posts by Jason Ditz