ISIS attacked the town of Tel Abyad, on the Syria-Turkey border, over the weekend and fighting raged for several days. The Kurdish YPG is claiming victory, but a costly one, claiming over 200 people were killed in the fighting there.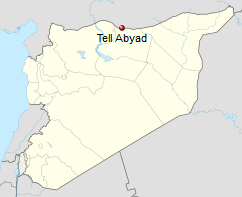 YPG official Redur Xelil reported 140 ISIS fighters were killed in the battle, along with 43 YPG fighters. 23 civilian bystanders were also slain in the course of the fighting over the key border crossing.
Initial reports were that some of the ISIS fighters who attacked Tel Abyad crossed in from the Turkish side of the border. US airstrikes were launched around the area over the weekend, aiming to stall the ISIS advance.
The YPG seized Tel Abyad back in June and has held it in the face of several offensives by ISIS since. The town is the most convenient border crossing into Turkey from the ISIS capital of Raqqa, and its loss has forced ISIS to use more roundabout paths.