US warplanes carried out multiple airstrikes against ISIS targets around the town of Tel Abyad, held by the Kurdish YPG, as ISIS attacked it and the neighboring town of Suluk, both along the Turkish border, on Saturday morning.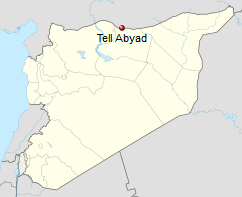 This is the latest in a series of ISIS attacks over the past several months aimed at recovering Tel Abyad, which is the most convenient border crossing into Turkey from the ISIS capital city of Raqqa. The Kurds captured it in June of last year.
According to the Syrian Observatory for Human Rights, 65 fighters were killed in the course of this latest battle, 45 ISIS fighters and 20 others from the YPG. The Kurds insisted the town was successfully defended.
Some of the ISIS attackers reportedly went into Tel Abyad from the Turkish side of the border, according to the Kurdish officials. Turkey did not address this, but has repeatedly complained about YPG having so much territory.