Raising doubts about last week's claims that the Kurdish YPG had effectively seized the entire ISIS-held town of Shahdadi, Secretary of Defense Ash Carter today bragged to Congress that the Kurds, a "US-backed force," had simply surrounded the town.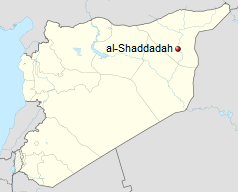 Carter presented the YPG's surrounding of Shahdadi as "part of the Pentagon's plan" against ISIS, cutting off a key link between the ISIS capital city of Raqqa and their largest city, Mosul, and said it was proof the Pentagon was "effectively enabling and partnering with local forces" in Syria.
The support for the YPG has become more controversial in recent days, and US officials have subsequently started sending mixed messages about it, with the White House claiming to have "warned" the YPG against capturing further territory in Syria for the time being, in an attempt to placate Turkey, which is complaining about the group's growth.
When talking to Congress, however, the Pentagon is eager to spin the war as going well, beyond all evidence to the contrary, and is thus trying to present the YPG's successes as their own. These mixed messages were also seen yesterday, when Secretary of State John Kerry bragged about massive arms shipments to the Kurds, just days after the State Department claimed the US had sent no arms at all.
Last 5 posts by Jason Ditz