Speaking to reporters today in Paris about the weekend Syria talks in Vienna, Secretary of State John Kerry said he believes an agreement on a ceasefire and transition to end the Syrian Civil War could be mere weeks away, saying there was a need to recognize how much the talks have accomplished.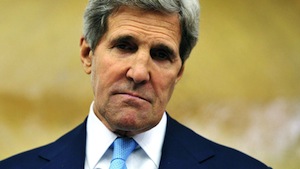 The consensus on the need for a settlement has been growing in recent weeks, and spiked among Western nations after Friday's Paris attacks, though everyone still seems to be holding out for their respective long-standing positions, and Kerry didn't indicate any wiggle room on that.
That means that the question of what happens to President Assad is still up in the air, and everyone being more interested in a settlement but no more interested in compromise just means a lot more arguing about Assad's status.
The other big question is, with everyone nominally agreeing at Vienna that this needs to be a "Syrian solution," they still haven't invited any Syrian factions to the talks, whether government or rebels, meaning they don't really have anyone on board to enact this putative transition anyhow.
Last 5 posts by Jason Ditz