Afghan Taliban forces have been racking up gains in the southeast, near Ghazni, and still hold some territory in Kunduz Province, though they've since left the city of Kunduz itself. Their latest gains are in the important Helmand Province, a key part of the Afghan opium industry, where forces are nearing the capital of Lashkar Gah.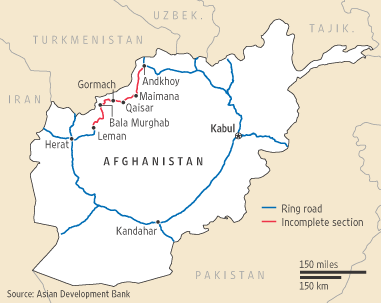 Officials say they've seen reports of civilians fleeing the city in large numbers, and Taliban gains in Gereshk District have convinced many that the fall of the capital is only a matter of time.
The fall of Lashkar Gah would put the Taliban under control of another part of the key Highway 1, this time the part that links Kandahar to the western city of Herat. The Ghazni offensive likewise would effectively give the Taliban control of the highway on the other side of Kandahar, leading to the capital of Kabul.
A nation with little infrastructure, Highway 1 is one of only a few paved roads of import in Afghanistan, and circles around the country, hitting most of the major cities. Control over the highway's chokepoints could severely limit the Afghan government's access to the country's south.