ISIS has issued a statement today claiming to be responsible for the death of Italian aid worker Cesare Tavella, who was shot to death in Bangladesh by three men on a motorcycle. Police had previously indicated they believed Tavella's death was a "planned killing."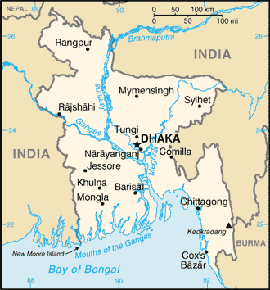 If ISIS' claim turns out to be true, this would be their first attack in Bangladesh, and suggests that they are gaining some operations capability in yet another nation, this time further east than most, adding to their aim to span the Muslim portion of the world.
The Bangladeshi officials are not commenting on how serious they are taking the possibility that this was ISIS, and police still seem to be treating the death as a major, albeit a premeditated one. The government has, however, stepped up security across the capital after the attack.
Embassies and other foreign sites in Dhaka seem to be taking the claim seriously, however, with many severely restricting the movement of diplomats in the area, and the Australian Foreign Ministry claiming credible intelligence that militants are planning to attack Australian targets in the country.
The US issued a statement ordering all embassy employees in Dhaka to "shelter in place" for hours, and to avoid any large gatherings. The American International School in Dhaka was closed because of the heightened security threat.