A pair of roadside bombings in southeastern Turkey have killed at least 15 police officers, with the PKK claiming responsibility and adding to tensions in the country, as the Turkish military carries out attacks against PKK targets in Turkey and Iraq.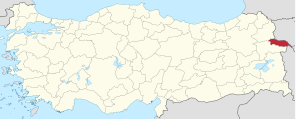 The larger of the two attacks took place in the Igdir Province, where a roadside bomb was detonated against a police minibus which was being used to escort customs officials to the Iranian border. 14 were killed, all police.
A second bombing, in Mardin Province, hit another police vehicle, killing one and wounding three others. A third strike, a grenade attack against a police vehicle near Cizre, wounded four more police, but didn't kill any.
With Turkey invading northern Iraq to target PKK there and attacking Kurdish towns inside Turkey itself, there is growing anti-Kurdish sentiment more or less nationwide, with reports of attacks against Kurdish political figures, and newspapers seen as insufficiently anti-Kurdish. The ruling AKP is calling for calm, but is seen as trying to benefit from the anti-Kurdish sentiment in the snap elections.
Last 5 posts by Jason Ditz