Earlier this week a rebellion broke out in the central Libyan city of Sirte against the nation's ISIS affiliate, with locals backed by the Misrata militia surrounding ISIS forces in several buildings in a key neighborhood. They accused ISIS of killing a local religious leader.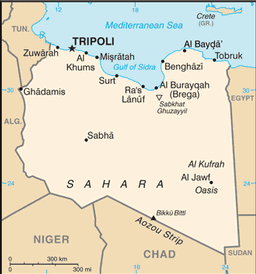 The battle went poorly for the locals, however, and by Friday it was clear that ISIS had retaken any lost ground. Now, reports are emerging claiming a full-scale massacre is being carried out against people in the opposing neighborhood, with between 150-200 killed.
Details are still emerging, but ISIS publicly beheaded 12 of the rival fighters. The 150-200 toll appears to include both fighters and civilians in the area that rebelled. Fighting is still reportedly taking place in some areas, but seems to be mostly wrapped up.
The Bayda-based government called on international airstrikes against Sirte to weaken ISIS, saying they don't have the equipment to launch strikes on ISIS themselves. The calls were delivered to the Arab League. Egypt has previously launched airstrikes on behalf of the government.