According to locals in the important central Syrian city of Sirte, 17 people were killed today when a group of Salafists backed by armed city residents attacked the Libyan ISIS forces who hold the city, accusing them of killing a prominent local religious leader.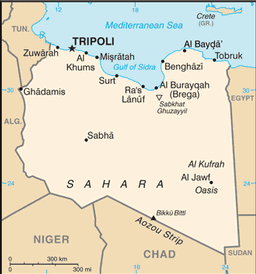 The residents say the fighting centered around a single district, where the fighters surrounded ISIS forces in several buildings. Two ISIS commanders were killed, and 15 local fighters were also said to have been killed. The fighting appears to be ongoing.
This incident largely mirrors the loss of the city of Derna, ISIS' capital city, in June, when al-Qaeda-led Salafist fighters organized a local rebellion and ousted them. ISIS has recently been attacking Derna to try to retake the city, which is home to several Islamist factions.
But while Derna's value is primarily sentimental, Sirte is an economically important city near a major power plant and near some oil infrastructure. ISIS can't afford to lose this city so easily, and is virtually obliged to commit more resources to protecting it from rival factions.
Last 5 posts by Jason Ditz