Selling the Iran nuclear deal to the Israeli government remains both an uphill battle and a top priority for the Obama Administration, it seems, as Joint Chiefs of Staff chairman Gen. Martin Dempsey was in Israel today to assure them of their "unshakable" military support, and to talk up diplomacy with Iran.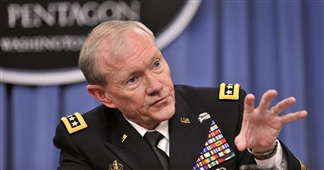 "I share their concern," Gen. Dempsey said of Israeli opposition to the nuclear deal including sanction relief, saying he believes Iran may spend some portion of the relief on conventional military forces, and may subsidize their allies across the region.
"If a deal is made, we've got work to do. If a deal is not made, we've got work to do," Dempsey said, adding Israel should trust that the Pentagon supports them enough to do all that work on their behalf irrespective of what happens.
At the same time, Gen. Dempsey said the deal should be supported because the prospects for the region are "far better" with a nuclear deal in place than without one. Israeli Defense Minister Moshe Ya'alon, with whom he met, pushed for major new military aid, complaining about US arms sales to Arab nations, even though those nations aren't actually at odds with Israel, on the grounds that the Arabs might eventually not like Israel in the future.