Warplanes from the military of the eastern (Tobruk-based) Libyan government (the one recognized by most of the international community) attacked the oil tanker Anwaar Afriqya today off the coast of Sirte, claiming it was full of "mercenaries, weapons, and ammunition" for ISIS.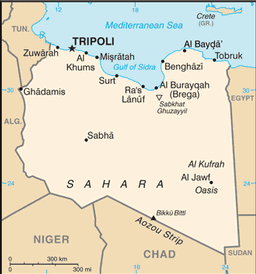 They provided no evidence of this claim, beyond the fact that ISIS controls much of Sirte. Officials with the western (Tripoli-based) Libyan government contested the story, saying the tanker was full of fuel being delivered to a power plant under their control, and was attacked while trying to unload the fuel.
The evidence appears to support the Tripoli version's story, as the Anwaar Afriqya had recently been in Agioi Theodoroi, a Peloponnesian port near a major oil refinery in Greece.
Though Tobruk officials claimed Anwaar Afriqya was flying under no country's flag at the time of the attack, the vessel is registered to Libya, which needless to say is a confusing place to be registered from these days.