Israeli officials are once again outraged and inconsolable today, after Russia reversed a long-standing ban on selling defensive missile systems to Iran. They're also pretty sure it's Obama's fault.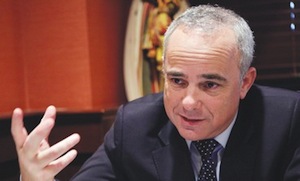 Intelligence Minister Yuval Steinitz claimed the reversal was a "direct result" of the US agreeing to the P5+1 nuclear framework with Iran, saying Iranian access to the defensive weaponry would "increase aggression."
Israel has long opposed the sale of the S-300, an anti-aircraft defense system, to Iran, arguing it would considerably inconvenience them in their oft-threatened plans to attack Iran.
Russian FM Sergey Lavrov confirmed the reversal was a function of the framework agreement, noting the sale of the defensive missiles should no longer be a problem.
US officials, even if they are slightly more willing to go against Israel's wishes, but still feels the need to give lip-service to Israel's will, and thus issued a statement condemning Russia, saying it was "unhelpful" to allow such sales.