Ukrainian officials say that the situation is increasingly "tense" along the rebel front tonight after facing over 100 separate attacks in the past 24 hours, leaving five soldiers and three civilians dead.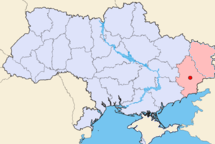 There was some fighting, but most of the attacks appear to have simply been artillery shelling by the rebels of military positions along the frontlines in Donetsk Oblast.
The two sides have been trading tit-for-tat attacks since the ceasefire collapsed earlier this month, and despite Ukrainian officials' promises to retake the whole of the country, the rebels seem to be holding them off.
The main contested town right now is Debaltseve, in Donetsk Oblast, and while it remains in government hands, it is increasingly surrounded by the rebels, who hope to oust them from the entire oblast, or at the very least the area around the city of Donetsk, their de facto capital.