The latest Charlie Hebdo, a satirical French magazine targeted earlier this month by gunmen, carried on a trend of defiance against the anger their caricatures of the prophet Mohammed have fueled. The cover depicted Mohammed, declaring "Je suis Charlie."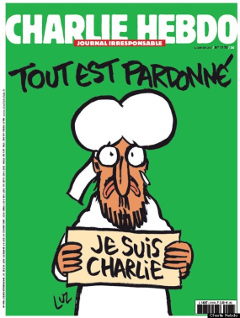 That's comparatively tame compared to some of their past images, but with a much higher profile after the attack, they sold millions of issues, and also got a lot more angry press in the Muslim world.
Rallies against Charlie Hebdo were reported in several nations, with many turning violent against the police, even though governments in many of those nations are similarly outraged at the comic.
In Niger, demonstrators killed 10 people and burned six churches, despite the Niger government having banned all reproductions of the cover in the name of maintaining order.
In Pakistan, the rallies centered around the French consulate in Karachi, where several people, including two reporters, were shot, and attendance was estimated around 5,000.
Last 5 posts by Jason Ditz