The multi-week battle for the Kurdish border town of Kobani (Ayn al-Arab in Arabic) continues apace today, with ISIS fighters pushing into the eastern portion of town, and battles continue with the Kurdish militias therein.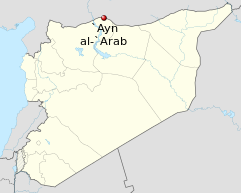 For the Kurds right now, the strategy seems to be to simply hold out while they wait for Iraqi Kurdish Peshmerga reinforcements, who are reportedly going to being given access to travel through Turkey to the town. Turkish officials, however, say that the talks with the Peshmerga are still ongoing, and that there are as of yet no troops actually coming.
Indeed, the size of a Peshmerga force for Kobani has not been reported, and ISIS is able to bring its own reinforcements to bear from its nearby territory more rapidly, while pushing the Peshmerga inside northwestern Iraq, potentially limiting how many the Iraqi Kurds will spare for the fight.
Former US Ambassador to Turkey and Iraq James Jeffrey, interviewed on the situation, says he believes the US has put such a big commitment behind the fight in Kobani at this point, between weeks of airstrikes and air drops of weapons to the Kurds, that they can't possibly let the town fall now.
Publicly, current officials insist that's not the case, and they've repeatedly insisted Kobani isn't a priority as such for their war. It is undeniable they've invested a lot of resources in the battle, however, and if Kobani ends up falling it will end up a psychological defeat for the US, even if the administration doesn't admit it.
That doesn't, however, mean that the US can actually stop ISIS, even if it has decided it "can't" let the town fall, as US air power has so far only slowed the advance, and the recent airdrop ended up accidentally dropping some arms into ISIS hands as well.
Last 5 posts by Jason Ditz