The Syrian Kurdish border town of Kobani (Ayn al-Arab in Arabic) is seeing a new round of escalated fighting today, with Kurdish fighters saying they're seeing the most intense clashes in at least a week there.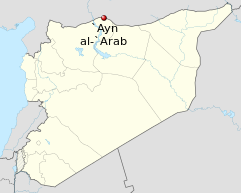 ISIS has been moving on the town for over a month now, and finally started taking parts of the town a little over a week ago. US airstrikes and a surge of Kurdish fighters chased them out, temporarily, but the battle continues.
With ISIS forces now back to the outskirts of town, it's also giving ISIS a chance to bring their artillery to bear more safely, with scores mortar shells raining down on Kobani, and some even crossing into neighboring Turkey.
US warplanes continue to pound ISIS as well, though the Islamist fighters have changed tactics to make themselves tougher targets, and reports are that recent strikes killed at least 10 civilians in the area.
ISIS has seized hundreds of villages around Kobani in the past month, but has yet to take the border town itself. Hundreds of thousands of Kurdish civilians from the area have fled into neighboring Turkey.