Heavy fighting over the outskirts of the Kurdish town of Ayn al-Arab continued once again into the night, capping off three weeks of fights that have seen hundreds of villages in thew region fall to ISIS.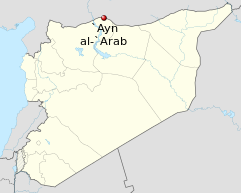 The latest day of heavy fighting centered around Mistanour, a hill on the outskirts of town seen as of extremely important strategic value in the battle. Backed by US airstrikes and even a suicide attack, the Kurds did not appear to have successfully pushed the ISIS fighters back, and they took parts of the city already.
Kurdish leaders say that their fighters still hold the high ground, but that the top of the hill is getting pounded by US-made tanks and artillery which ISIS looted during its Iraq offensive.
Some of that fire also strayed across the border into neighboring Turkey, where a house was hit by an unspecified "projectile." Five civilians were wounded in the incident, but none seriously.
Last 5 posts by Jason Ditz