All of the specifics won't be available until Wednesday night, but those who were given a "preview" of President Obama's strategy for the ISIS war say he is laying out a massive undertaking to wipe out the militant group worldwide.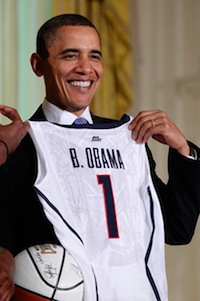 Brookings President Strobe Talbott says that the administration presented ISIS as a "unique danger, not just for the region, but for the world," and one that the US could only respond to by exterminating it.
What started out as an "emergency" humanitarian campaign to save people trapped on Mount Sinjar, most of whom weren't trapped there to begin with, has escalated in a matter of weeks into an open-ended war with ISIS that even the most optimistic Pentagon planners say is going to take years.
While he publicly hasn't confirmed the plans yet, expanding the war from Iraq into neighboring Syria also seems a foregone conclusion at some point, as officials have been downplaying the idea that they could stop ISIS in one country without stopping them planet-wide.
A global war with no strategy for victory and no end in sight certainly wasn't what the American public were presented with when the campaign began, but White House officials continue to deny that "mission creep" is occurring.
Mission creep has long been a very slow process of escalating the goals of a war, but the administration still hasn't made it clear that what they've set out so far is the totality of the war's goals, and perhaps more disconcertingly, it's escalated at a pace far beyond any reasonable definition of "creep."
The White House tried to pass off the expansion of the war into Anbar as protecting the Baghdad Airport, on the notion that if the Haditha Dam was destroyed it might conceivably threaten the airport, just under 200 miles downstream and not actually built along the shoreline.
But wiping out ISIS in multiple countries and putting something more pro-US in its place is a far broader goal than "keeping the embassy safe" or some other platitude about why the new war was launched, and the scariest part is we aren't even sure that's where it'll finish off, with officials tacking new goals on seemingly every couple of days. Obama's Wednesday speech will in no way resemble his start of the war speech, and his speech a few weeks down the road will probably be starkly more bellicose, as the war keeps expanding.
Last 5 posts by Jason Ditz