The deputy premier of East Ukraine's breakaway region headed to Belarus today, and rebel officials say they're eager to negotiate a settlement of the ongoing war, with a goal of comparative autonomy instead of their previous pushes for secession.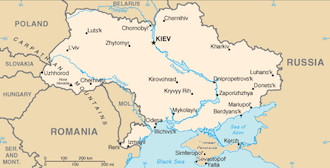 But it takes two sides to make peace, and as usual, Ukraine's pro-West government is spurning the calls for talks, insisting the war over the nation's impoverished east is actually the start of a "great war" for all of Europe that must be won militarily.
Ukraine had rejected peace talks in the past on the notion that they were about to win the war, but now seem to be in retreat from the east, withdrawing from the Luhansk airport and falling back from the border areas in the face of a counter-offensive.
Russia has been calling for Ukraine to adopt a federalist system as a way of resolving the war. The Ukrainian government insists the whole war is Russia's fault, and that they want Western support for their massive war against Russia.
The US has been pushing Ukraine not to accept negotiated settlements, and the EU has piled on with threats of sanctions against Russia if they don't forcibly disarm the rebels and end the rebellion.
After months of fighting and an estimated 2,600 dead, the rebel push seems like it can be solved the same way as ever, with an agreement for federalism. The Ukrainian government, however, seems less negotiation-minded than ever, and seems willing to keep pushing the narrative of a world-changing, albeit stalemated, conflict to avoid making moderate concessions.