ISIS continues to take advantage of its momentum in northern Iraq today, advancing keeper into Kurdish-held territory and seizing several new cities along the Kurdish frontier.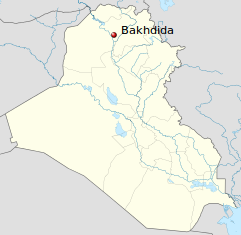 Among the most important cities to fall was Bakhdida (also known as Qaraqosh), a city in the Nineveh Province and the largest city of Iraqi Christians remaining.
Bakhdida normally only has around 50,000 residents, but was also housing a number of Iraqi Christian refugees from in and around Mosul since the ISIS takeover of that city in June.
Nearby villages, also mostly Christian, were overrun as well, and another influx of refugees is coming out of ISIS-held territory and into neighboring Iraqi Kurdistan.
Note: Some of the reports this article is based on came out of Iraqi Kurdistan. Though traditionally reliable sources of information, Kurdistan is openly lobbying for US military involvement at this point, and therefore efforts to "manage" information coming out of the region cannot be ruled out.