Ukrainian artillery is pounding the major eastern city of Donetsk, with warplanes looming overhead and tanks rolling closer to the city, one of the latest rebel-held stronghold.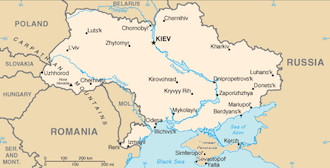 Traffic jams were reported heading out of Donetsk to the south and east, into neighboring Russia, and the Russian government has reported a major spike in refugees over the past few days.
The attacks are shaping up to the be waning days of a war of secession in the east, with the US-backed government close to crushing the secessionists. President Poroshenko continued to downplay the civilian tragedy of the war, while insisting the war isn't an "internal conflict" at all, but a battle against "mercenaries."
Casting a wide shadow over the war is Russia, which has warned Ukraine against using military force against the ethnic Russian easterners. The US has praised Ukraine for the attacks, and accuses Russia of interfering in Ukraine's internal affairs by calling for a ceasefire.