The death toll for the ongoing Ukrainian war of eastern secession may be much higher than anyone knew, amid reports from the Ukrainian military that "hundreds" of bodies of slain rebels were found buried in shallow graves in the recently captured city of Slovyansk.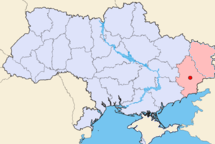 Ukraine's military has previously made dubious claims of extreme numbers of rebels slain, including 1,000 killed on Saturday alone, but they have always been denied by the rebels. The bodies found in Slovyansk suggest Ukraine may indeed be killing a lot more rebels than anyone realized.
The death toll on the government's side continues to mount as well, with the military saying 11 more soldiers were killed today, putting the overall death toll on their side to at least 270. Untold hundreds of civilians have also been slain in the war, which has centered on eastern, mostly ethnic Russian cities.
11 civilians were killed yesterday in an airstrike against an apartment block in the rebel-held city of Snizhne. Ukraine denied involvement and initially blamed Russia, despite no conceivable reason for Russia to attack a rebel city. Today they seem to have backtracked a bit, insisting only that a totally unidentified aircraft carried out the strike.
In addition to the dead and wounded, large numbers of prisoners of war have been taken on both sides. Ukraine reported at least 250 soldiers and pro-government civilians held by the rebels, which they dubbed "hostages." They would not disclose their own number of captured rebels, but said more than 200 are being held in "pre-trial detention" on terror charges.
Last 5 posts by Jason Ditz