Addressing Ukraine's parliament today, new Defense Minister Valeriy Heletey vowed to see the army retake Crimea from Russia militarily, saying troops would restore the country's "territorial integrity."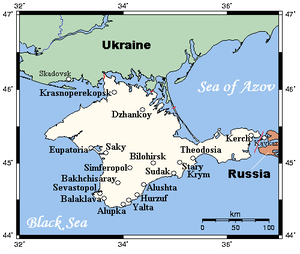 After a referendum, Crimea seceded from Ukraine earlier this year and gained accession into the Russian Federation. The move was backed by Russia, in no small part because Crimean port Sevastopol is the home of their Black Sea Fleet.
Ukrainian officials have made much of their ambition to build a larger, more aggressive military, though the nation has no money to spend on such arms, nor any realistic expectation to be able to defeat Russia militarily to retake Crimea by force.
Heletey's comments were praised by Ukraine's parliament, with his pledge to hold a victory parade in Sevastopol sparking an ovation of cheers from officials who can't possibly believe that's a realistic possibility.