Fighting continues in eastern Ukraine, where the oblasts of Donetsk and Luhansk remain largely out of central government control. Russia and NATO both agree this is a problem, and both agree it's the other side's fault.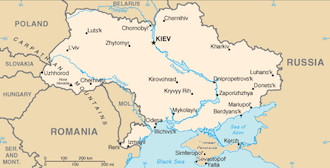 NATO continues to portray the eastern protests and secessionist movement as entirely a creation of Russia, with the US threatening "powerful action" to punish Russia for allowing weapons to flow across the border.
Russian Envoy Alexander Grushko, by contrast, said NATO in general and the US in particular were encouraging the Kiev government's violent crackdown on dissent in the area.
After the election of Ukrainian President Petro Poroshenko, Russia started calling for negotiations to end the fighting and settle the situation. Western officials have made it clear that's not their preference, and responded by demanding that the protesters unconditionally surrender to the central government.
The State Department reiterated today that they "don't have any particular concerns" about Ukraine's military offensive against the eastern cities, and that they support the Ukrainian operation.
Last 5 posts by Jason Ditz