Vote counting continues in India today, but it's all academic at this point, as the Indian National Congress has conceded defeat and the ultranationalist Bharatiya Janata Party (BJP) will end up with an absolute majority.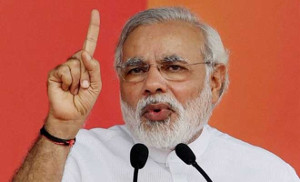 That means Narendra Modi is the new Prime Minister-elect, and a more polarizing figure in Indian politics would be unimaginable. Modi, the outgoing Chief Minister of Gujarat, has campaigned on an openly anti-Muslim platform.
Modi's warnings that Muslim immigrants in the east better have their "bags packed" seem especially ominous when one considers his administration oversaw the 2002 Gujarat riots, which saw the deaths of at least 790, and by some accounts nearly 2,000, Muslim civilians.
Modi's provincial cabinet ministers were accused of direct involvement in the riots, and while Modi himself was never firmly implicated he has since 2005 been denied entry to the United States. Despite this, the US says that it "looks forward" to working with Modi's government.
The BJP has won praise for its economic and anti-corruption policies, but has pushed draconian "anti-terror" laws in the past, and Modi's own policy seems particularly extreme, even by his party's standards, toward India's Muslim minority.