Philippines Foreign Minister Albert del Rosario today confirmed that the United States is obliged by treaty to defend his nation's claims in the South China Sea with military force, and provided diplomatic letters affirming that this was the US position as well.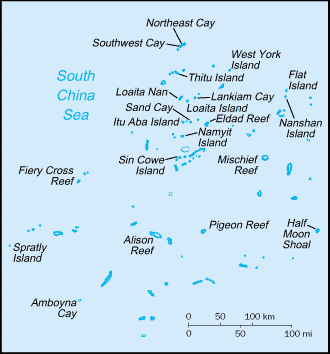 Past US treaties have promised to protect the Philippines from attack, and the letters say the US views the country's territorial claims in the sea as part of their scope of those treaties.
Which underscores why there is so little momentum for negotiating a settlement of who owns what in the sea, as the Philippines feels this "ironclad" guarantee of US military force on their behalf means they don't have to deal, and can treat their claims as inviolable.
Doubly troubling though is that the Philippines claim is not unique, and the United States has been making similar promises of military involvement across China's frontier, meaning a full-scale US war against China could erupt over any piddly claim over any unoccupied plot of land in the South and East China Seas.
Though the US sees these treaties as a convenient way of formalizing their "containment" policy toward China, they are also preventing the development of potentially lucrative offshore energy resources throughout the region, and leaving countless territorial disputes unresolved.
To make matters worse, none of these treaty obligations is exclusive to China (and indeed some were made when China was a fairly trivial power), so even to the extent these deals "work" for the sake of US policy right now, they could quickly find themselves obliged to back both sides of a conflict, as there are no less than six nations with competing claims in the South China Sea, and the US is to some extent backing five of them.
Last 5 posts by Jason Ditz