Jordanian warplanes attacked a destroyed an unspecified number of cars this morning along the border with Syria. The cars were camouflaged, though officials confirmed none of them were even suspected of affiliation to the Syrian military.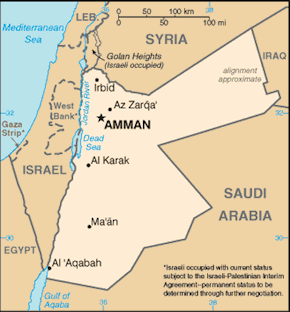 The official statement didn't make any specific allegations of whose cars they were, but some reports said the cars had guns mounted on them and were believed to be affiliated with an unknown rebel faction.
Other than arresting the occasional smuggler, it is unusual to see much activity at all on the Syria-Jordan border, and indeed most of the rebel traffic in the area is of the US-backed rebels being trained by US forces inside Jordan, and going into Syria to fight.
That Jordan would go to the lengths of destroying the cars suggests whatever faction they were is not one of the run-of-the-mill groups they trained, but more likely one of the al-Qaeda affiliated groups more common along the Iraqi and Turkish borders.