The collapse of the Israel-Palestine peace talks was immediately followed by Israel declaring the failure entirely the fault of the Palestinians. The blame didn't stick there, so now the Israeli government is insisting it is entirely Secretary of State John Kerry's fault.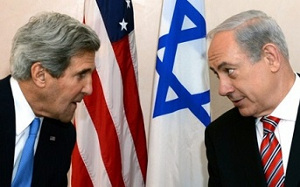 The talks effectively collapsed two weeks ago, when Israel reneged on the last round of prisoner releases. The initial revision by Israel tried to blame the collapse, as well as the lack of a release, on the Palestinians signing the Geneva Convention, even though that came days later.
The new narrative centers on the idea that the prisoner release was never planned in the first place, despite being widely reported in the Israeli media and openly "cancelled" by the Israeli government last week. Instead, officials claim Kerry made the whole thing up, told the Palestinians it was true, and then the chaos ensued when it didn't happen.
That claim isn't particularly credible, but whatever the narrative that eventually sticks, there is one thing Israel seems right about, that there is "zero chance" for any new peace talks any time soon.
Last 5 posts by Jason Ditz