The fighting over the Syrian border city of Bukamal seems far from over, as fierce clashes between al-Qaeda in Iraq (AQI) and its rival al-Qaeda faction, Jabhat al-Nusra, continued into a second day, raising the overall death toll to 86.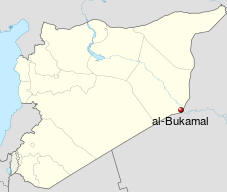 The Nusra fighters held the city to start with, and were attacked by AQI yesterday, with the faction hoping to seize the oil-rich city as well as its border crossing into Iraq's Anbar Province, which it also controls much of.
The city changed hands twice today, according to rebel reports, as AQI reportedly took it early in the day, and lost it back to Nusra when reinforcements arrived. AQI is said to have executed seven captured Nusra members on their way out.
The Iraqi military, which still controls the border crossing, is said to have reinforced their own position along the border, but with AQI controlling virtually ever major city along the highway between the border and Baghdad, it seems unlikely that when push comes to shove the border patrol can seriously retain the crossing.
AQI and Jabhat al-Nusra have been openly warring for months, since al-Qaeda's parent organization disavowed AQI as too brutal for their taste, and endorsed Nusra as their official Syria affiliate. Despite losing their imprimatur, AQI has continued to control much more territory and seems to be the stronger of the two factions.
Last 5 posts by Jason Ditz