Detailing just how bad Ukraine's economy has been over the past couple of years, the head of the International Monetary Fund revealed Russia's late 2013 bailout essentially saved the nation from full-scale economic collapse.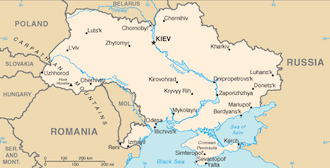 "Without the support that they were getting from this lifeline that Russia had extended a few months ago, they were heading nowhere," Managing Director Christine Lagarde insisted.
Lagarde went on to say that the new IMF bailout "comes with a price" and is conditioned on reforms, adding the economy needs a "profound transformation of its fiscal policy, of its monetary policy, and of its policies on energy."
The $27 billion IMF bailout, announced last week, came after the agreement that Ukraine cut back energy subsidies, meaning a 50% increase in the price of natural gas in May, and an electricity price hike later in the summer.
Last 5 posts by Jason Ditz