The Federation Internationale de Football Association (FIFA) has given Israel until this summer to dramatically improve their treatment of Palestinian football players or face a complete expulsion from the international governing body.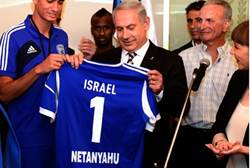 The official issue is a long-standing one, the Israeli military's harsh detentions and arbitrary travel restrictions on Palestinian football players, which have often kept the Palestinian national team from competing with its full roster, or hosting games in the occupied West Bank.
The much higher profile incident which is bringing this to a head however, came earlier this month, when Israeli troops deliberately crippled a pair of Palestinian football players, 19-year-old Jawhar Nasser Jawhar and 17-year-old Adam Halabiya, shooting them both multiple times in both feet to ensure they would never play again.
The Palestinian Football Association confirmed pushing the ban after the cripplings, saying Israel had made "death, injury or imprisonment" the fate of many up-and-coming players throughout the years.
Israeli officials condemned the move, accusing FIFA of "mixing politics and sport" and insisting that their treatment of Palestinian players had actually gotten much better in recent years.