Russian Foreign Minister Sergei Lavrov says that he remains confident that the annexation of Crimea will be completed this week, and that the last of the legal process is virtually completed.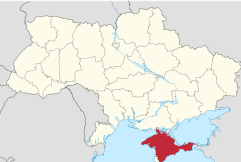 Crimea authorized the annexation in a referendum over the weekend, and the process was signed off on by President Putin almost immediately. The Russian Duma voted for ratification today in a 443-1 vote, and the upper chamber of parliament is set to vote on Friday.
The lone opponent, opposition MP Ilya Ponomaryov, said he believed the annexation was done with the best of intentions, but feared it would lead to a war.
The Russian Defense Ministry says that it intends to boost military infrastructure on the Crimean Peninsula in the coming weeks and months, saying they need to get the defenses in the area up to snuff to be a "worthy representative of the Russian Federation."
Last 5 posts by Jason Ditz