The USS Truxtun has crossed the Bosphorus Strait today into the Black Sea, a deployment which officials presented as a reaction to the growing tensions around Crimean secession.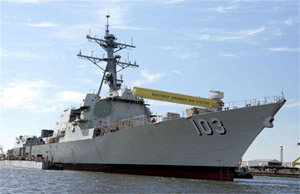 The Truxton is a relatively new Arleigh Burke-class destroyer, launched in 2007. Its primary claims to fame were a 2006 fire during its construction, which caused millions of dollars in damage, and its role in the 2013 Tom Hanks movie Captain Phillips.
The decision to deploy a single ship is puzzling, since Russia has an entire fleet there, and much of Ukraine's own navy has defected to the Crimea. The Truxton clearly will not alter the balance of power in the sea.
Moreover, the 1936 Montreux Convention strictly limits how long the ship is allowed to stay in the Black Sea. The Truxton is expected to play a role in naval exercises with Bulgaria and Romania during its visit.