Secretary of State John Kerry, who launched the Geneva II talks on a non-starter demand for an immediate installation of a "transitional" government, is now demanding that supporters of the current government press President Assad to unconditionally accept his demands.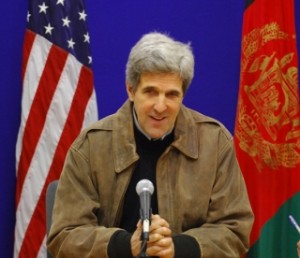 "In the end, they will bear responsibility if the regime continues with its intransigence," Kerry insisted. Before the talks, Kerry and Russian Foreign Minister Sergey Lavrov proposed partial ceasefires as a stepping off point.
The Assad government endorsed the Kerry-Lavrov plan, at which point Kerry apparently forgot it was his idea in the first place and lambasted it, insisting that ceasefires were a "distraction" to the talks, whose only purpose from his perspective was regime change.
In the end, the ceasefires didn't get off the ground, both because the US never got any rebel fighters to attend the talks and because they loudly opposed the idea. The regime change demand likewise didn't get very far, again because the "opposition" that attended had little to no influence on the ground and a weak bargaining position.
Last 5 posts by Jason Ditz