The tiny village of Ma'an is of no small strategic import in Syria, and is the latest focus of rebel fighters trying to cut off government supply lines. The latest sacking of the village has taken a heavy toll on the Alawite locals.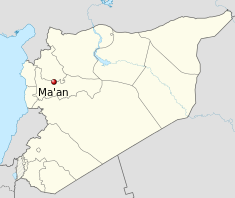 The latest estimates are at least 40 locals have been killed by the rebels, with roughly half of them deemed "fighters" for taking up arms when the rebels tried to enter their homes, and the other half simply women and children killed as part of the ongoing sectarian blood-letting.
Members of Syria's Alawite minority are everywhere and always at risk of attack from rebels, since the religious sect is the same one President Bashar Assad belongs to. The value of Ma'an, which lies along the nation's main north-south highway, means locals are at even greater risk.
If Sunni Islamist rebels retain the village is the long run, it can be expected that they will eventually depopulate the village one way or another, as they have considered Alawites presumptive Assad government loyalists.