US embassy officials are passing off as "entirely coincidental" the fact that they rented an apartment directly across the street from then-Israeli Defense Minister Ehud Barak and packed it full of electronic surveillance equipment.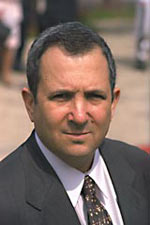 The embassy insists they rented the apartment for a marine who was guarding the embassy, and that the location wasn't picked because of its proximity to Barak's home.
It is just one aspect of a growing US spying scandal across the world, with multiple targets in Israel's government including Barak and Prime Minister Benjamin Netanyahu. It provoking an angry condemnation from Intelligence Minister Yuval Steinitz and a demand that the US stop.
Other Israeli officials are hoping to capitalize on the revelation by demanding the US release Jonathan Pollard, a spy convicted of spying for Israel long ago and still in prison in the US.
Last 5 posts by Jason Ditz